Shows. Screenings. Exhibits.
Maybe even an outdoor activity now that the weather's cooled down. Los Angeles is where it's at for the next couple of weeks. So get off your couch, skip the boring bar down the street, and do something better. Below, our guide to living your best life in LA.
Shirin Neshat: I Will Greet the Sun Again at the Broad 
Shirin Neshat—the acclaimed visual artist responsible for some of the most eye-opening photographs and films relating to Islamic exile and displacement—has a feature exhibition at the Broad Museum in downtown LA.  With photography, video, film—and her 2001 collaboration with Philip Glass, Passage, acting as the pivotal piece, the exhibition is the largest of Neshat's 30-year career. Her work is powerful and profound and depicts the Islamic struggle through the eyes of a female artist. Go see this, it'll move you.
Tickets and more information at thebroad.org
The Babe Rainbow at Teragram Ballroom – November 13th 
If you've never seen the Babe Rainbow perform live, you're missing out on the pure joy of these Aussie jokesters. The Babes performance is always resplendent with outfits and maracas and a general good vibe. And opener Claude Fontaine (best described as bossa nova in a tiki glass) will warm you right up for the main course.
Cat Power at the Echo – November 13th 
Because this is LA, of course there are a bunch of great shows happening on the same night. So pick your poison, but the night belongs to music. Cat Power is performing at the Echo, a tiny venue in Echo Park known for its sticky floors and high, sound-swallowing ceilings. Coming off her latest release, 2018's Wanderer, Cat Power is back to her soulful, sorrowful roots, and her voice is more passionate than ever. Buy your tickets early for this one before it sells out.
Tickets here. 
Gloria Steinem at the Ace Theater Downtown – November 20th 
Feminist icon Gloria Steinem has a new book titled The Truth Will Set You Free, But First It Will Piss You Off. It's a collection of her most 'inspirational and outrageous quotes,' and the Ace Theater downtown is hosting Steinem and activist Jameela Jamil for a night of 'thought and laughter' to celebrate its release. The ticket also gets you a copy of the book, so it's a win-win, really. Steinem's words have never felt more relevant than they do today, and her ability to spin disaster into an amusing quip is beyond enjoyable. Check the Ace website for more information and tickets.
Tickets here.
Enchanted Forest of Light at the Descanso Gardens – November 17th – February 
The Descanso Gardens in La Canada Flintridge is a vast, breathtaking 150-acre botanical garden. Starting November 17th and continuing through February, Descanso Gardens will be transformed at night into the Enchanted Forest of Light, an interactive mile-long experience through incredible light fixtures and effects that bathe the gardens in kaleidoscopic rainbows. Sounds pretty psychedelic to us. Go sober, go not so sober. You'll have fun regardless.
Tickets here.
Blade Runner at the Ace Theater Downtown – November 2nd 
Ridley Scott's classic Blade Runner is set in a futuristic dystopian Los Angeles, where cars fly and robots pass as humans. In the year 2019. That's right. The 1982 film based on Philip K. Dick's Do Androids Dream of Electric Sheep? takes place in our current year. Let that sink in for a moment… The screening is presented by KPCC's FilmWeek Screenings series, which features movies set in Southern California. Blade Runner has the added bonus of actually being filmed only blocks away from the original Ace Hotel in downtown LA. If that's not meta enough for you, nothing is.
Tickets here.
The Rock 'n' Roll Flea Market at the Regent Theater – November 2nd
At 11 am on November 2nd, rock 'n' roll will converge and take over the Regent Theater. Bringing together a collection of handpicked vendors selling everything from clothing to jewellery to vinyl to antique instruments, the RnR Flea is a hodgepodge of all things vintage for those who love rock 'n' roll. Show up hungry for the food trucks, and be prepared to rifle through shit.
Integratron: The Extended Life of a Life Extension Machine at Zebulon – November 6th
Nestled in the valleys of Landers, just beyond the cactuses of Joshua Tree National Park in Yucca Valley, is a mysterious white dome that looks like it fell down to Earth from another planet. It is called the Integratron, and Zebulon is hosting a slide lecture there with architectural historian Daniel Paul—the man responsible for successfully having the structure added to the National Register of Historic Places. The Integratron was originally designed and built by George Van Tassel in 1956 as a vessel to attract UFOs. Okay, his original intentions for the structure are debatable, but after you watch the slide show, take a trip out to the real thing. Climb inside the dome and slip into a sound bath. You'll be seeing UFOs for days.
Tickets here.
Reggie Watts at Zebulon – November 7th 
Musician, comedian, writer, actor. Reggie Watts is many things, and entertaining people is his main goal. His live performances are accessible and raw, especially within the close quarters of a place like Zebulon. But if this of interest, don't sleep on buying tickets. Watts has played Zebulon before, and his shows always sell out.
Tickets here.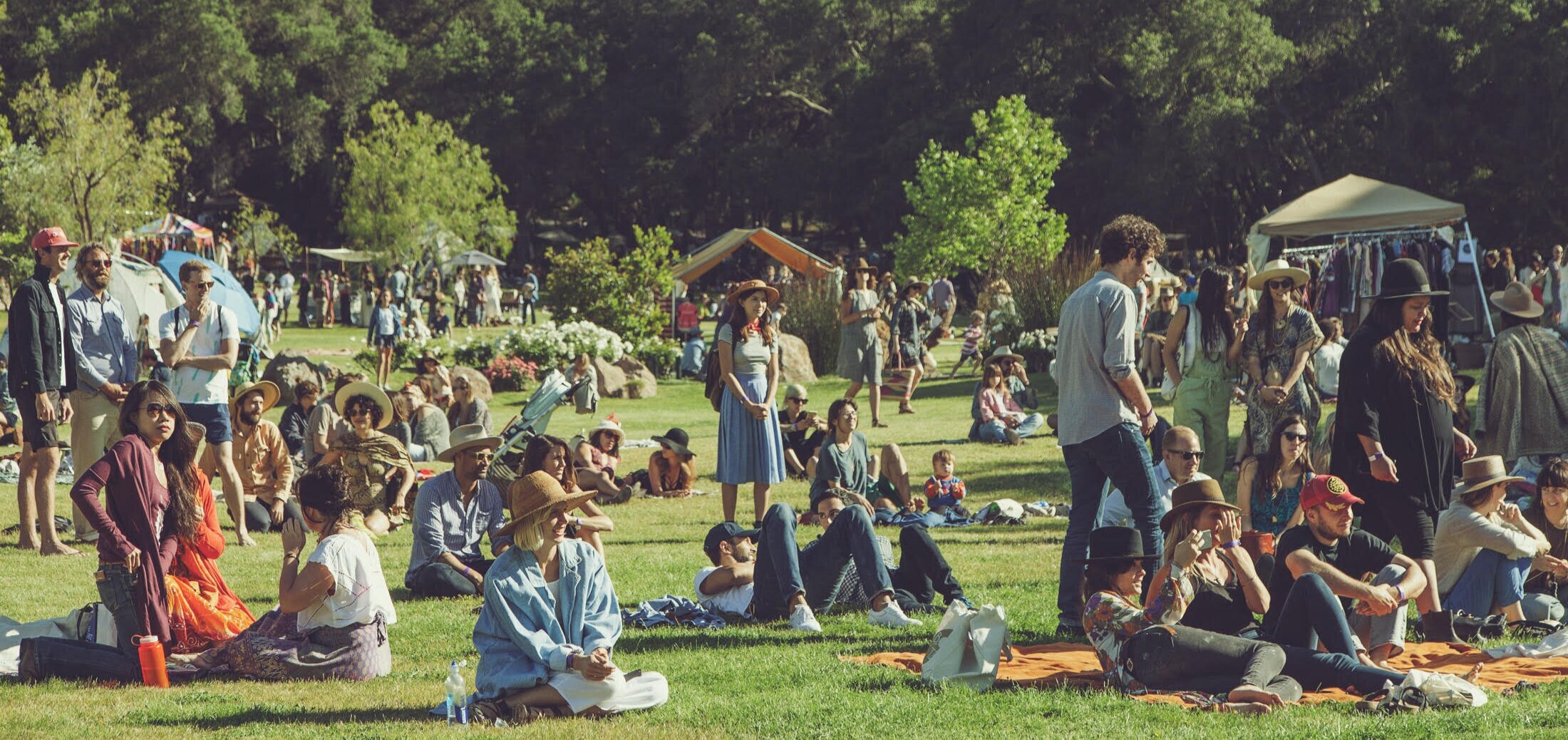 Mercado Sagrado – November 16th-17th 
Here it is straight from their press release: "Mercado Sagrado returns for its sixth year with a slate of expansive programming designed to inspire a more connected, conscious way of living." That translates to: Really fun music, art, craft, and food festival in the Santa Monica Mountains right above Malibu where everyone is more beautiful than you, has better skin than you, and probably lives a nicer life than you. With a live music lineup curated by Babe Rainbow (two shout outs in one article!), tons of hands-on wellness workshops, and more organic food on site than Erewhon, Mercado Sagrado is a damn good time that won't make you feel like total junk.
Tickets here.